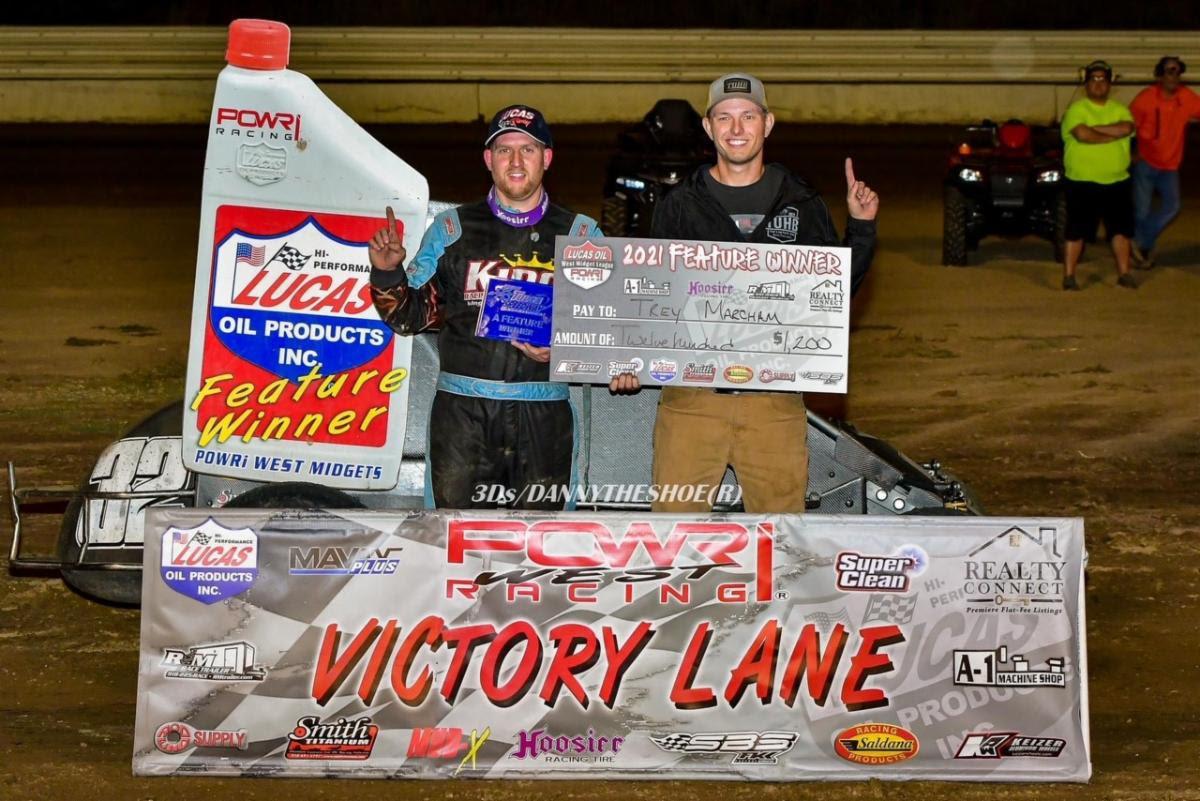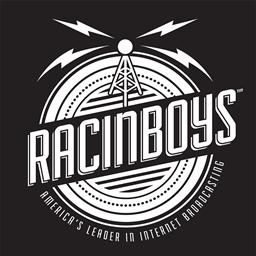 ---
Marcham makes late race pass to win at Tulsa Speedway
By POWRi PR (Tulsa, OK) -- The Newcastle, Oklahoma native Trey Marcham made a late race charge to pass Kyle Jones and claim his second win of the Lucas Oil POWRi West Midget League season.
At the drop of the green flag, Marcham, who started seventh for the main event, methodically worked his way through traffic as Jones took the early lead away from Emilio Hoover. Jones paced the field through multiple cautions while Hoover, Andrew Felker, and Hank Davis battled for positions behind him. Hoover brought out the night's lone red flag after tagging the wall in between turns three and four, collecting Davis.
PHOTO CREDIT: Danny Clum
When racing resumed, Felker and Shannon McQueen traded passes as Marcham continued to work his way forward. With less than five laps to go, Marcham and Jones put on a show, but Marcham prevailed and captured the win. Jones followed in second, with Felker third, McQueen fourth, and Tanner Berryhill earned the Keizer Wheels Hard Charger award, moving from 15th to round out the top five.
POWRi West will be back in action Saturday night at the always exciting I-44 Riverside Speedway in Oklahoma City.
Midgets
Lucas Oil A Feature 1 (25 Laps): 1. 32-Trey Marcham[7]; 2. 7U-Kyle Jones[3]; 3. 11A-Andrew Felker[1]; 4. 7-Shannon McQueen[6]; 5. 17-Tanner Berryhill[15]; 6. 97-Mason Daugherty[10]; 7. 3B-Shelby Bosie[4]; 8. 00-Chase McDermand[11]; 9. 70-Cade Cowles[9]; 10. 21-Emilio Hoover[2]; 11. 44-Branigan Roark[12]; 12. (DNF) 14-Hank Davis[5]; 13. (DNF) 00A-Ace McCarthy[8]; 14. (DNF) 22-Curtis Jones[13]; 15. (DNS) 7X-Michelle Decker
Smith Titanium Heat 1 (8 Laps): 1. 3B-Shelby Bosie[4]; 2. 14-Hank Davis[7]; 3. 11A-Andrew Felker[5]; 4. 00A-Ace McCarthy[3]; 5. 00-Chase McDermand[1]; 6. 70-Cade Cowles[8]; 7. 7X-Michelle Decker[2]; 8. 17-Tanner Berryhill[6]
Saldana Race Products Heat 2 (8 Laps): 1. 21-Emilio Hoover[1]; 2. 32-Trey Marcham[2]; 3. 7U-Kyle Jones[6]; 4. 7-Shannon McQueen[7]; 5. 97-Mason Daugherty[3]; 6. 44-Branigan Roark[4]; 7. 22-Curtis Jones[5]
=======================================================================================================================
USRA B-MODS
A Feature 1 (20 Laps): 1. 2-Daniel Tarkington[2]; 2. 2B-Jordan Barbee[3]; 3. 13-Mike Duvall[8]; 4. 14B-Brennon Lacy[9]; 5. 12-Brandon Fogle[5]; 6. 14-James Little[11]; 7. AR15-Jeff Hall[7]; 8. 46-Tim Ford[14]; 9. 501-Leroy Cook Jr[1]; 10. 0-Ray Roberts[4]; 11. 23-Justin Rexwinkle[10]; 12. 2K-Mike Keever[6]; 13. M1-Richard Magee[13]; 14. 16T-Trey Eberle[12]
Heat 1 (8 Laps): 1. 2-Daniel Tarkington[2]; 2. 2B-Jordan Barbee[1]; 3. 12-Brandon Fogle[5]; 4. AR15-Jeff Hall[6]; 5. 14B-Brennon Lacy[7]; 6. 16T-Trey Eberle[3]; 7. M1-Richard Magee[4]
Heat 2 (8 Laps): 1. 501-Leroy Cook Jr[3]; 2. 0-Ray Roberts[2]; 3. 2K-Mike Keever[4]; 4. 13-Mike Duvall[6]; 5. 23-Justin Rexwinkle[7]; 6. 14-James Little[1]; 7. 46-Tim Ford[5]
FACTORY STOCKS
A Feature 1 (20 Laps): 1. X99-Dalton Garrison[1]; 2. 62-Chris Bales[2]; 3. 24-Aaron Kuehn[3]; 4. H1-Steve Hewitt Sr[11]; 5. 97-Tyler Lacy[7]; 6. 51-Ronnie Drake[10]; 7. 79-Nick Morales[5]; 8. 75R-Anthony Rodriquez[21]; 9. 411-Jason Davis[8]; 10. 4-Cody Johnson[16]; 11. 44-Timothy Roberts[19]; 12. 20RB-Ricky Bledsaw[9]; 13. 44X-Matt Bales[17]; 14. 77X-Dustin Rowbotham[20]; 15. 8S-Robert Steele[15]; 16. 7K-Preston Kuehn[4]; 17. 11-Robert Scott[6]; 18. 33-Gregory Johns[14]; 19. 5-Keith Heaslet[18]; 20. 252-Prestidge Orcutt[13]; 21. D3-Dewayne Davis[12]
Heat 1 (8 Laps): 1. X99-Dalton Garrison[2]; 2. 97-Tyler Lacy[1]; 3. 20RB-Ricky Bledsaw[3]; 4. 411-Jason Davis[7]; 5. 33-Gregory Johns[5]; 6. 44X-Matt Bales[6]; 7. 75R-Anthony Rodriquez[4]
Heat 2 (8 Laps): 1. 62-Chris Bales[2]; 2. 7K-Preston Kuehn[4]; 3. 11-Robert Scott[7]; 4. H1-Steve Hewitt Sr[6]; 5. 8S-Robert Steele[5]; 6. 4-Cody Johnson[3]; 7. 44-Timothy Roberts[1]
Heat 3 (8 Laps): 1. 24-Aaron Kuehn[1]; 2. 79-Nick Morales[4]; 3. 51-Ronnie Drake[3]; 4. D3-Dewayne Davis[5]; 5. 252-Prestidge Orcutt[2]; 6. 5-Keith Heaslet[7]; 7. 77X-Dustin Rowbotham[6]
DWARF
A Feature 1 (20 Laps): 1. F4-Chandler Foltz[1]; 2. 55-Nathan Hagar[4]; 3. 75-Paul York[2]; 4. 7D-Roy Petersen[8]; 5. 42-Chris Pearce[5]; 6. 17-Rob McQuary[7]; 7. 39-Rex Johnson[9]; 8. 44-Gene Pearce[11]; 9. 48B-Stephen Free[16]; 10. 27-Jeff Pense[12]; 11. 22-Justin Foltz[3]; 12. 20D-Roy Moody[13]; 13. 40-Jeremiah Johnson[14]; 14. 00-Jeff Robertson[10]; 15. 76-Jason Miles[6]; 16. 43-Tim Walsh[15]; 17. 23-Robbie Russell[17]; 18. (DNS) 1H-Ted Holt Sr; 19. (DNS) X15-Larry Pense
Heat 1 (8 Laps): 1. 55-Nathan Hagar[1]; 2. 76-Jason Miles[4]; 3. 17-Rob McQuary[6]; 4. 00-Jeff Robertson[5]; 5. 40-Jeremiah Johnson[3]; 6. 23-Robbie Russell[2]; 7. (DNS) 1H-Ted Holt Sr
Heat 2 (8 Laps): 1. F4-Chandler Foltz[2]; 2. 75-Paul York[5]; 3. 39-Rex Johnson[3]; 4. 27-Jeff Pense[4]; 5. 20D-Roy Moody[6]; 6. 48B-Stephen Free[1]
Heat 3 (8 Laps): 1. 42-Chris Pearce[1]; 2. 22-Justin Foltz[5]; 3. 7D-Roy Petersen[4]; 4. 44-Gene Pearce[2]; 5. 43-Tim Walsh[3]; 6. X15-Larry Pense[6]
---
Submitted By: Kirk Elliott
Back to News